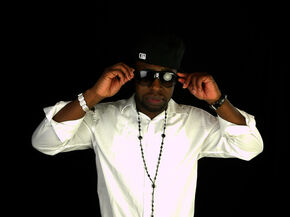 BiographyEdit
Joseph Stevens p.k.a. Ya Boy Skolla, realized he wanted to be in the music industry as a child when he used to hang out with the artists that his older brothers Boss and Lucky were working with. Ya Boy Skolla dropped his first official mixtape at the age of 15 hosted by South Carolina's own DJ Prince Ice entitled "On A Block Near You". A year later, "Welcome To Sumter City" dropped, this time hosted by South Carolina's own DJ Cleve of the So So Def DJ's. At the age of 19, Ya Boy Skolla worked with the infamous DJ Speedracer of the Core DJ's and released the mixtape "Call Me King", all to rave reviews.
Ya Boy Skolla has performed in Florida, Georgia, Chicago, Wisconsin, Las Vegas, North Dakota, New Jersey, New York, Minnesota and Canada. While touring Canada, Ya Boy Skolla has opened shows for Joe Buddens and Sean Paul, which has shown all in the industry that he has the drive to work outside his box and build his brand throughout the country both nationally & internationally.
Ya Boy Skolla is currently in the studio working on his Debut album "Living Proof" for A'KT/The Next Phase Entertainment LLC. Ya Boy Skolla has proven that hard work and dedication does pays off, and his drive show a perseverance that is rivaled by more established artists in the industry.
No doubt Ya Boy Skolla is "Living Proof" of how far you can go if you keep focus on the prize
2005 - On A Block Near You - Street Album
2006 - Welcome to Sumter - Street Album
2008 - Call Me King - Street Album
2010 - Living Proof - Street Album
2010 - I Got It
2011 - Look At Me (with Ladi G as We A Problem )
2012 - Get This Money (with Ace Sinna and Ladi G as We A Problem)
Music Videos
Edit
Ad blocker interference detected!
Wikia is a free-to-use site that makes money from advertising. We have a modified experience for viewers using ad blockers

Wikia is not accessible if you've made further modifications. Remove the custom ad blocker rule(s) and the page will load as expected.