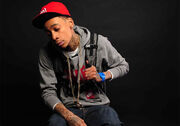 Cameron Jibril Thomaz (born September 8, 1987), better known by the stage name Wiz Khalifa. ==Biography== ==Discography== ===Albums=== * 2006:
Show and Prove
* 2009:
Deal or No Deal
* 2011:
Rolling Papers
==See Also== *
Wiz Khalifa on Wikipedia
*
Wiz Khalifa on Lyrics Wiki
==Grammy Nominations== ===2012 Grammy Nominations=== *Best Rap Song for
Black & Yellow
*Best Rap Performance for
Black & Yellorv
Ad blocker interference detected!
Wikia is a free-to-use site that makes money from advertising. We have a modified experience for viewers using ad blockers

Wikia is not accessible if you've made further modifications. Remove the custom ad blocker rule(s) and the page will load as expected.