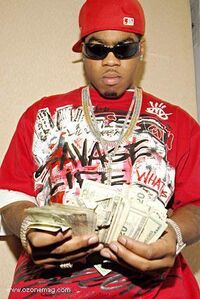 Webster Gradney, Jr., better known by his stage name Webbie, is an American rapper from Baton Rouge, Louisiana. He was signed to the independent Trill Entertainment label from 2003 to 2005. In 2005 he came into the hip hop scene in with "Gimme That" featuring Bun B. His songs "Bad Bitch" and "Swerve" were featured on Gangsta Musik, his 2003 group album with Lil' Boosie, and in the 2005 movie Hustle & Flow. Both songs are also on Webbie's debut album Savage Life which was released on the summer of 2005 under Atlantic Records. He is currently planning an independent biography movie called Ghetto Stories: The Movie with Lil' Boosie based on their lives and lyrical themes.
Early life
Edit
Webbie was born September 6, 1985 as Webster Gradney, Jr. in Baton Rouge, Louisiana. His mother Joycelyn died of cancer when he was nine years old, so his parental care was split between his father and grandmother. Ever since he was five years old, he had been writing rhymes, and throughout his childhood he had become an avid fan of hardcore rap artists including Southern hip hop performers Master P, Eightball & MJG, the Geto Boys, and UGK, as well as West Coast rap such as 2Pac, Eazy-E, and Snoop Dogg. His admiration for hip-hop is attributed to his cousin from California. He attended Broadmoor Middle School, where he played quarterback for the football team the Buccaneers. 7th grade math teacher Sean Fluharty described Gradney as a "quiet, mild-mannered student" and said "he was actually pretty good at math.He attended Belaire High School but dropped in the 11th grade."
Things changed for him one day in the fall of 2001 after he made a freestyle rap about his late mother.
Coming Soon
<youtube width="460" height="385">Qs2E9S5A_3c</youtube>
Ad blocker interference detected!
Wikia is a free-to-use site that makes money from advertising. We have a modified experience for viewers using ad blockers

Wikia is not accessible if you've made further modifications. Remove the custom ad blocker rule(s) and the page will load as expected.