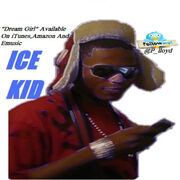 Ice Kid Was born in Nigerian in 1992. birth the name Prince .D Emmanuel,better known as Ice Kid or Young Prince recently got a record deal with VMG record with his first single which happened by played all over the air with over 10 million listeners "Dream Girl'.

ice kid is one of the most known artist from montreal quebec when its comes to talk about R&B/HipHop/Rap music

ice kid started his music career at the age of 7 in his home country Nigeria. His Parent decided that by moving to canada so that he will finally achieve is dream .