THE WEEDA MANUAL-UDE WITH DJ DARK DUKE

IT WAS A HIT !

CUZ OF ITS SINGLES

BIG CARS BLACK CARS

BURN MONEY UDE FEAT BIGSLIM HRC(PRD BY DJ DARK DUKE)

Edit

UDE'S AIM

TO TAKE UNDERGROUND RAP TO A NEXT LEVEL WHICH NO ONE EVER HAS GONE TO. DOWNLOAD MY NEW MIXTAPE"THE WEEDA MANUAL"UDE AT REVERBNATIONFUTURE PROJECTS THE WEEDA MANUAL V0L 2-TBA

INTEREST FOR RAP

Edit

HIS INTEREST IN RAP GREW WHEN HE WAS 12 THANKS TO EMINEM AND OTHER RAPPERS.

HE GOT INSPIRED BY THEM. N STARTED RHYMIN WORDS TO BEATS N NOW HES SET TO GO A LONG WAY!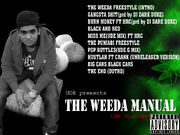 Write the text of your article here!
HOW TO CONTACT UDE
'YOU CAN FOLLOW ME ON twitter.com/udeweeda'
YOU CAN MESSAGE ME AT reverbnation.com/udeuday
YOU CAN WALL POST ME AT MY OFFICIAL FB PAGE
facebook.com/udemusic
YOU CAN ALSO ADD ME ON FACEBOOK ON
facebook.com/udeuday
IF YOU WANNA SEND ME SOME OF UR WORK OR SMTHIN GUD
HOLLA AT ME
uday_dhanoa@yahoo.comEdit
Ad blocker interference detected!
Wikia is a free-to-use site that makes money from advertising. We have a modified experience for viewers using ad blockers

Wikia is not accessible if you've made further modifications. Remove the custom ad blocker rule(s) and the page will load as expected.