Tyga
Talk

0
838pages on
this wiki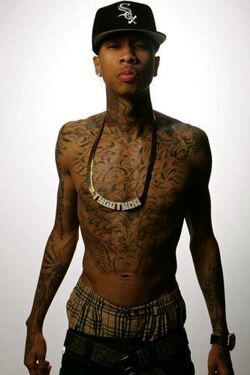 Tyga is a rapper associated with the Young Money/Cash Money Billionaires (YMCMB) recording group. His real name is Michael Ray Nguyen-Stevenson. His stage name is an acronym for "Thank You God Always". Tyga was born November 19, 1989.
Tyga has a prolific mix-tape library, including collaborations with Chris Brown, Lil Wayne, and Drake. Popular singles from his mix-tape library and features include "The Motto (Remix)", "Rack City", "Still Got It", and "Faded". He was also featured in "Deuces", a popular Chris Brown single from 2010.
In keeping with his persona as a young, rich hip-hop prodigy, Tyga owns a custom Rolls-Royce convertible valued at $500,000.
List of Chains
Edit
Tyga has been photographed in a number of distinct and flamboyant jeweled chains. Amulets or designs include:
The YMCMB Logo
Garfield the Cat
An Egyptian theme featuring a Pharaoh Entombed in a Sarcophagus (as depicted on the album art for the "Well Done 2" mix-tape)
The initials "GED"
The text "TYGATYGA" linked together in continuous gold
The name "TYGA" suspended as an amulet from gold links
Gold hibiscus flowers with gem centerpieces
The Pooka chain whcih is worth just over $500,000 signitured by the designer Pooka Gutteridge.
Careless World Rise Of The Last King Album
Edit
Careless World Album Track List
1. Careless World
2. Lil Home featuring Pharrell
3. Muthafukka Up featuring Nicki Minaj
4. Echoes Interlude
5. Do It All
6. I'm Gone featuring Big Sean
7. For The Fame featuring Chris Brown & Wynter Gordon
8. Birdman Interlude
9. Potty Mouth featuring Busta Rhymes
10. Faded featring Lil Wayne
11. Rack City
12. Black Crowns 13. Celebration featuring T-Pain
14. Far Away featuring Chris Richardson
15. Mystik aka Mado Kara Mieru Interlude
16. This Is Like featuring Robin Thicke
17. Kings & Queens featuring Wale & Nas
18. Let It Show featuring J. Cole
19. Love Game
20. Lay You Down featuring Lil Wayne
21. Light Dreams featuring Marsha Ambrosius

References
Edit
[YMCMB Rapper Tyga Shows Off His BRAND NEW $500K CAR . . . He Musta Made A LOT OF MONEY From That RACK CITY Song!!!]