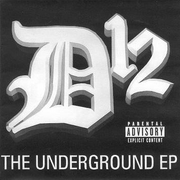 The Underground EP is the first discography released by D12. The Underground EP was released on June 15, 1997 and features some of the original artists from the rap group: Eminem, Bizarre, Proof, Bugz, DJ Head (producer), Eye-Kyu, Kuniva, and Kon Artis. The Underground EP featured 10 tracks, and in some cases was called a "mixtape".
Track listing
Edit
01. 6 Reasons
02. Art Of War
03. Derelict Theme
04. Chance To Advance
05. Activity As Phuctivity
06. Filthy
07. Fuck Battlin'
08. Cock And Squeeze
09. Bring Our Boys
10. Bad News
The image was scanned and the track listing comes from various Google links.
Ad blocker interference detected!
Wikia is a free-to-use site that makes money from advertising. We have a modified experience for viewers using ad blockers

Wikia is not accessible if you've made further modifications. Remove the custom ad blocker rule(s) and the page will load as expected.