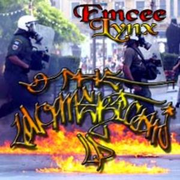 The UnAmerican LP is the third studio album by underground political rapper Emcee Lynx. The album was released in 2004 and was an independent release with the help of hip hop producers Kdubbs and DJ Matalesta.
Track listing
Edit
01. Proud to be UnAmerican
02. Throw your Hands Up
03. Got a Letter
04. Summertime
05. I'm a Celt
06. Old School Interlude ft. Scott Dred
07. I Don't Write Love Songs
08. Avalon ft. Lia Rose
09. Death Comes Stalkin'
10. Movement
11. Met You in the Club (smooth remix)
12. A Beautiful World
13. Train Station Gray Lyrics
14. The Program
15. That Crunk Shit
16. Shoot or Stab Them
17. A Bullet in the Chamber
18. The Trouble with Scotland
19. Fuck Going Platinum
20. Dialects
External links
Edit
Ad blocker interference detected!
Wikia is a free-to-use site that makes money from advertising. We have a modified experience for viewers using ad blockers

Wikia is not accessible if you've made further modifications. Remove the custom ad blocker rule(s) and the page will load as expected.