The Label Of Creation (aka The L.O.C.)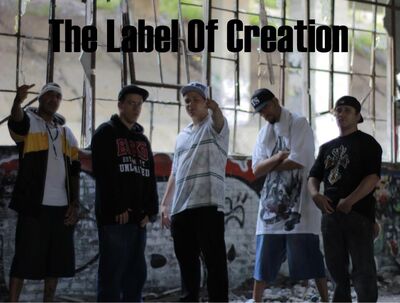 Members:
P.Flow Matics (Rapper/Producer/Director/Actor/Founder)
Bigg.B (Rapper/ Music Video Director)
T.S./ Mr. Northern Touch (Rapper/Ghost Writer/Actor)
Christos Kalaritis (Rapper/Singer)
DC20 (Rapper)

The Label Of Creation is a hip hop label/band formed by P.Flow Matics in 2008. The label consists of five members, P.Flow Matics, Bigg.B, T.S./ Mr. Northern Touch, Christos Kalaritis & DC20. They are close friends from nearby hoods but P.Flow Matics, Bigg.B & DC20 are from the same town. T.S./ Mr. Northern Touch joined the group in 2009, after hearing what T.S. can bring, P.Flow Matics asked him to join the party and he did. Christos joined the label as well after recording the single for "Truth Be Told" with P.Flow Matics. His lyrical style was exactly what the group needed and so he joined forces with the label. They work as a musical team to promote their rap all around the world under one name. The Label Of Creation is a creative movement that represents the meaning of artistic freedom, every member in this label is his own manager, each artist works on their own stuff but will also collaborate with other members of the group to promote eachother. The Label Of Creation released their debut music video The L.O.C. Cypher Pt.1 as a rap group. That led them to becoming more of an official band when people started to recognize them as The Label Of Creation. When an artist from The L.O.C. releases an album, the label promotes it as their own.
In The L.O.C. Cypher Pt.2, Clarity had joined forces with the group for a temporary amount of time when DC20 was no longer in the group for a year or so. Clarity worked on a few projects, collaborated on various tracks with the label, but Clarity had his own thing and had to leave the group. That's when DC20 joined The Label Of Creation again. Now they are back in the original order. The Label Of Creation just released the third installment of The L.O.C. Cyphers entitled "The L.O.C. Cypher Pt.3" released on Halloween Night 2014.
TLOC just announced their debut album "T.L.O.C. EP" set to release sometime in 2015.
If you want to listen to The Label Of Creation click on this link:   www.youtube.com/thelabelofcreationtv
Ad blocker interference detected!
Wikia is a free-to-use site that makes money from advertising. We have a modified experience for viewers using ad blockers

Wikia is not accessible if you've made further modifications. Remove the custom ad blocker rule(s) and the page will load as expected.