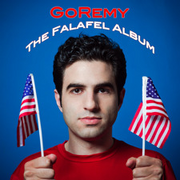 The Falafel Album is the first digital album/EP released by underground comedy rapper GoRemy (Remy Munasifi). The album was released on iTunes in 2010. The Falafel Album was produced by Comedy Central Records as well as an independent release. It is named after falafel, a Middle Eastern dish.
Track listing
Edit
01. "Falafel Song"
02. "Saudis In Audis"
03. "Grandma: The Rap"
04. "Metro Song"
05. "Passive-Aggressive Love Song"
06. "Abraham Lincoln: The Rap"
External links
Edit
[1] The Falafel Album tracks and additional information
Ad blocker interference detected!
Wikia is a free-to-use site that makes money from advertising. We have a modified experience for viewers using ad blockers

Wikia is not accessible if you've made further modifications. Remove the custom ad blocker rule(s) and the page will load as expected.