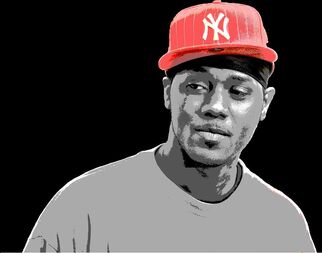 T.Y.V.O.J aka Mr. Mirk was born on June 11 in Elizabethtown NC. Elizabethtown (all so know as The Wild side) was a small town with BIG city problems, so to deal with those problems T.Y.V.O.J started writing and rhyming at the age of 12. The youngest of three boys he grew up idolizing his big brother June-June who was one of the top drug dealers in E-Town. To him June had it all money, cars and some of the hottest women he has ever seen and he wanted to be just like him, but June had other plans for his little brother. He knew that T.Y.V.O.J did not truly understand what his world was really like. He knew that all he saw was the nice cars and the hot women; he did not see gun fights between other dealers trying to move in on his turf or the cold nights in a jail cell. June wanted his brother to have a better life then he did, so he told the little T.Y.V.O.J "Don't be like me, be better than me. Stay in school and go the college" and that's what he did. He graduated from High School and he went to college. T.Y.V.O.J was two week away from going to Europe to play basketball for a CBA team when he got a call that would change his life forever. It was his brother Tank on the other end of the phone telling him that June was shot and killed. T.Y.V.O.J went into a downward spiraled until he hit rock bottom and when he thought there was nowhere to go he started to think about the words that his brother use to say to him "You can be great if you put your mind to it, don't let anyone hurt you". With those words going through his mind T.Y.V.O.J set off to make his dream happen and to honor his brother's memory, that's when T.Y.V.O.J was born "The Young Version Of June". Today T.Y.V.O.J is working on his self-title debut album which includes the hot new singles I Confess and Hood Luv.
Ad blocker interference detected!
Wikia is a free-to-use site that makes money from advertising. We have a modified experience for viewers using ad blockers

Wikia is not accessible if you've made further modifications. Remove the custom ad blocker rule(s) and the page will load as expected.