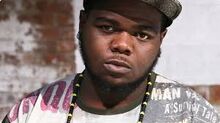 T-Top is a battle rapper from Fuquay-Varina, North Carolina and is one of the most talked about rising stars in battle rap. During his time various battle leagues, T-Top has taken out other recent Proving Grounds standouts Th3 Saga, Chess, and Sno. His past record of competitors also includes top tier talents John John Da Don and Charlie Clips.
In 2014, Top faced off against his fellow North Carolina battler Brizz Rawsteen in the final round of BET/URL's Ultimate Freestyle Friday tournament. After the three rounds of back-and-forth bars, guest judges Kid Capri, Pete Rock, and Prodigy of Mobb Deep crowned T-Top the champion. 2014 also saw the release of Top Bizzy's 11-track Bear Witness mixtape which featured appearances by battlers John John Da Don and Lotta Zay.
Leagues Competed In
URL, UW, RBC, Spit Dat Heat, 7 Cities Sharks, and Goonie Battlegoundz.
Slogan: "Hunting accident."
Label: Park Lyfe
Ad blocker interference detected!
Wikia is a free-to-use site that makes money from advertising. We have a modified experience for viewers using ad blockers

Wikia is not accessible if you've made further modifications. Remove the custom ad blocker rule(s) and the page will load as expected.