Ad blocker interference detected!
Wikia is a free-to-use site that makes money from advertising. We have a modified experience for viewers using ad blockers

Wikia is not accessible if you've made further modifications. Remove the custom ad blocker rule(s) and the page will load as expected.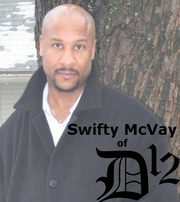 Swift (born as Ondre Moore on March 17, 1975) is a rapper from Detroit, Michigan and a member of D12. In 1995 to 1997 Swift was in another Detroit rap group called "Da Rabeez" which later disbanded Then worked with D12 Shortly After Swift has appeared on all D12 albums. has 6 Solo albums an 3 Mixtapes an a host of features/songs with several HipHop artist featured in 3 movies including the Longest Yard starting Adam Sandler. an did several theatricle stage plays.
Discography
Edit
Forest Fyres (Rabid) (2006)
Underestimated Vol. 1 (2008)
Assassains (2012)
Retro Hip-Hop (2013)
Poetic Poltergeist (2014)
Collaborations
Edit
The Underground EP with D12 (1997)
Devil's Night with D12 (2001)
Limited Edition Mixtape: Please Bootleg This Album with D12 (2004)
D12 World with D12 (2004)
Return of the Dozen with D12 (Mixtape, 2008)
Return of the Dozen Pt. 2 with D12 (Mixtape, 2011)
As featured artist
Edit
2000: "Under the Influence" Eminem feat. D12
2001: "Outro" Obie Trice feat. D12
2002: "When The Music Stops" Eminem feat. D12
2005: "Pimplikeness" Proof feat. D12
2005: "Sammy da Bull" Proof feat. Nate Dogg and Swift