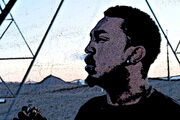 Spencer Bonds is from the High Desert California,Just a hour from L.A county in a small town getting bigger everyday called Victorville.Spencer started writing rhymes since the age of 12 after watching the movie 8 mile.He is in a rap duo called "fly boiiz" with other member antwin(king H)THEY have performed throughout southern California in various clubs opening up for bone thugs n harmony,problem,mike jones,e-40,suga free,nipsey hussle,indigo vanity,kandyman,skee-lo,dominoe,glasses malone.to find out more go to spencerbonds.bandcamp.com
Ad blocker interference detected!
Wikia is a free-to-use site that makes money from advertising. We have a modified experience for viewers using ad blockers

Wikia is not accessible if you've made further modifications. Remove the custom ad blocker rule(s) and the page will load as expected.