Slaughterhouse is a hip-hop supergroup consisting of Joe Budden, Royce da 5'9, Joell Ortiz, and Crooked I.  The group was formed in 2008 after the four collaborated on a Joe Budden track entitled "Slaughterhouse". They are currently signed to Shady and Interscope records along with Yelawolf as a part of the label's new "2.0" phase.  In August 2012, they released their major label debut album on Shady, entitled "Welcome to: Our House". The album climbed to #2 on the Billboard 200 but only managed to score one single, "Throw That" on the Hot 100, peaking at 98.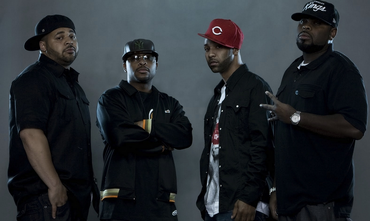 Leading up to "Our House", the group's discography included both a full length album and EP, both self-titled, as well as one mixtape, "On The House".
Although a relatively new group, each member has had average to above average success as a solo artist prior to joining the group, specifically Joe Budden. 
Associated acts include Eminem, Yelawolf, Skylar Grey, Mr. Porter, Black Hippy, The LOX, D12, TI, and B.o.B. amongst others. 
Ad blocker interference detected!
Wikia is a free-to-use site that makes money from advertising. We have a modified experience for viewers using ad blockers

Wikia is not accessible if you've made further modifications. Remove the custom ad blocker rule(s) and the page will load as expected.