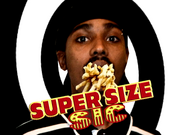 SIC ILL (previously known as Si Aura), born as Demetrius Cornelius Jackson (June 4th,1987), is a satirical American underground rapper from Tacoma, Washington. Named SIC ILL because of his past volunteer work with a Tacoma General Hospital, SIC ILL was made famous for his video Labyrinth Zone Act 1, based on the fourth level of Sonic The Hedgehog 1 from Sega Genesis, which is currently uploaded on his YouTube channel which he joined on April 13, 2011. In 2015 SIC ILL was signed by Sacramento rapper First Degree The D.E. to the independent label Fahrenheit Records which released his debut professional album Vicdemic 1234. SIC ILL is often criticized for low budget videos and his insisting to wear the same striped long sleeve shirt in every one of his productions as well as medical scrubs and sexy yet devonair business suits. His video was featured on Worldstarhiphop in which it was criticized and praised. Let's get it, 100% Crazy!

SIC ILL released follow-up videos to Labyrinth Zone Act 1, one of the first was entitled Spring Yard Zone on March 13th, 2015 featuring the catchy chorus "Look who's come for dinner. Peas and chicken, finger licking...Turkey ham that's my jam, potatoes hitting the spot!"
Discography
Edit
3 day theory (unreleased)
Epidemic (unreleased)
Pandemic
Youtubedemic (2013)
Vicdemic 1234 (2015)
References
Edit
External links
Edit
Ad blocker interference detected!
Wikia is a free-to-use site that makes money from advertising. We have a modified experience for viewers using ad blockers

Wikia is not accessible if you've made further modifications. Remove the custom ad blocker rule(s) and the page will load as expected.