David Steven Espinal, known for his stage name R3X Wonder is a rapper/spoken word poet from Pasadena, California. R3X began writing poetry and songs since grade school as a method to receive attention from his female classmates. This small skill soon developed as he began to elevate into middle then high school. Where in the 7th grade he started performing small pieces at coffee shops and small venues. This passion for writing and performing evolved into the only consistent feature in his life. Before high school started R3X was given his first Apple computer where the famous beginner music production software was installed "Garage Band". With this tool he began to experiment with the different aspects of music creation. He played with loops and created simple melodies to practice his lyricism. In 10th grade R3X cofounded a collective spoke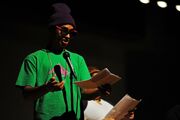 n word poetry team called "Poetry 2 Linguistics". This group has performed at several events locally and out of state. This was also the year where R3X decided that he wanted to pursue music and poetry as a career. He began to get more serious about his craft and began recording out of a studio at this time. Through out the beginning of his career R3X went through a series of names that he decided he was going to call himself. Some were inspired by his tagger aliases that he had used with his graffiti art work. The very first stage name was "Ace" later transforming into "Ace Wonder". He soon ended this name after the popular and radical rapper Tyler the Creator,from the group ODD FUTURE, came into the game with that name. He then changed it to "iWonder" inspired by rapper Common, which has a meaning to the name. More of a statement or philosophy. This name soon died out when he decided that it just wasnt the right fit. In his junior year David discovered what his goal as a rapper would be and that is to bring back old styles mix them with the new style of the music industry. In a way saving the beginning from being forgotten. He compared music to the life of earth and how it changes. So he began going by the name "Rex" as a dinosaur character. Later changing the "E" to a "3". Now with a firm identity he continued to work harder than before, giving meaning to the name. In 2012 he joined a music/skateboarding group called GHM aka Green House Mob. Also in 2012 he released his first mixtape titled "R3X Savior of The Dinosaurs" with tracks produced by GHM's duo production team WAGWAN. Jessi Johanna the starter of the group works closely with many industry buzzed artists like Tyler the Creator, Lil B the Based God, and Kreayshawn. R3X is scheduled to feature in the "Mob's" song "Waffles" due to be released August 2012.
Ad blocker interference detected!
Wikia is a free-to-use site that makes money from advertising. We have a modified experience for viewers using ad blockers

Wikia is not accessible if you've made further modifications. Remove the custom ad blocker rule(s) and the page will load as expected.