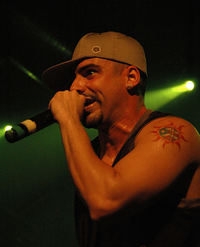 Anthony Quiles (born in Bushwick, Brooklyn, New York) is an American hip hop musician from New York City. Better known by his stage name Q-Unique, Quiles performs mostly alternative underground hip hop music along with his own genre called "street metal" combining hip hop with metal such as other fusion genres like Rap rock and Jazz rap. He works as an active member of three hip hop groups including the street metal band called StillWell as well as the hip hop-dance group C+C Music Factory and the rap group called the Arsonists.
Discography
Edit
Solo albums
Edit
2004: Vengeance Is Mine
2010: Between Heaven & Hell
With Arsonists
Edit
1999: As the World Burns
2001: Date of Birth
External links
Edit
Ad blocker interference detected!
Wikia is a free-to-use site that makes money from advertising. We have a modified experience for viewers using ad blockers

Wikia is not accessible if you've made further modifications. Remove the custom ad blocker rule(s) and the page will load as expected.