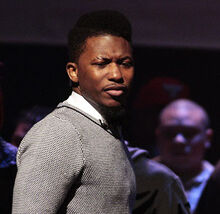 Prep is a professional battle rapper from Baltimore, Maryland. His movement to shift the game toward a more GQ friendly style is just the beginning. Prep's focus is not just aimed at his wardrobe, he also sees himself as part of a new crop of emcees that are implanting lyrical content back in the veins of battling and forcing the established stars to step their pen game up.
Prep took a huge step in his career when he recently competed againstJohn John Da Don at URL's Rookies Vs Vets card. The DMV native believes he – along with T-Top, Brizz Rawsteen, Chess, Th3 Saga, Mr. Wavy, & Sno – proved the rooks deserved to stand on the same grounds as the vets.
Leagues Competed In
Pit Fights, We Go Hard, URL, BET
Ad blocker interference detected!
Wikia is a free-to-use site that makes money from advertising. We have a modified experience for viewers using ad blockers

Wikia is not accessible if you've made further modifications. Remove the custom ad blocker rule(s) and the page will load as expected.