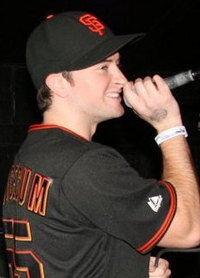 Brad Tryon (born May 14, 1987, age 29), better known by his stage name PREF1X (pronounced "prefix"), is an American rapper. He is currently an independent artist. He works with independent rap artists Kaero, Amberglance, Sunshine Estates, and Kid A.Y. He currently lives in Sacremento, California.
Early life
Edit
Brad Colin Tryon was born in Oxnard, California on May 14, 1987. He has a sister and a brother. He was raised as a Christian, and attended and graduated from Christian Brothers High School (Class of 2005). Growing up, Tryon was inspired by Michael Jackson, Martin Luther King, Jr., Eminem, Tupac Shakur, and Michael Jordan.
Music career
Edit
Pref1x has been a hip hop artist since 2003. Pref1x performs regular hip hop music as well as "techno rap". On June 26, 2009, Pref1x joined YouTube to boost his career. Performing with other rappers and in freestyle hip hop performances, Pref1x finally began working on his first discography in 2009 when he released the Pref1x Project mixtape in late 2009. This mixtape contained 20 tracks including "Michael Jackson" and "Puffin' On La" which later became Pref1x's first music video.
In Summer of 2011 Pref1x will released D.E.M.O. (Diary Entries of a Man in Orbit). Leaks of singles have already been released. "Mega Man" came out in 2010, and "Color of Your Sky" on March 19, 2011.
Discography
Edit
Albums
Mixtapes
Singles
January 1, 2010: "Michael Jackson" (Pref1x Project)
January 1, 2010: "Puffin' On La" (Pref1x Project)
July 14, 2010: "Mega Man" (feat. Amberglance) (D.E.M.O.)
March 19, 2011: "Color Of Your Sky" (feat. Kaero) (D.E.M.O.)
2011: "The City" (TBA)
As featured artist
2010: "Play To Win" (with Sunchine Estates)
Music videos
May 4, 2010: "Puffin' On La" (Powell Productions)
2011: "The City" (Powell Productions)
References
Edit
External links
Edit
Ad blocker interference detected!
Wikia is a free-to-use site that makes money from advertising. We have a modified experience for viewers using ad blockers

Wikia is not accessible if you've made further modifications. Remove the custom ad blocker rule(s) and the page will load as expected.