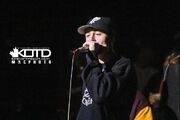 Organik
is an
underground
Canada
hip hop
artist and rapper. He is also the founder and part-owner of
King of the Dot
, a
rap battle
league based in
Toronto
, Ontario.
Organik has won several notable battle rap competitions, including BET's 2006 and 2008 "Canadian Spring Bling" and "Battle Of The Headz". He is a three time champion of ChangePromotion's Battle King Events and also won Toronto's "Proud2BEhBattleMC" event three times.
In 2011, Organik was a judge on the Ultimate MC TV show alongside with Royce da 5'9", Sean Price, Planet Asia, and Pharoahe Monch.
Organik started King of the Dot in 2008. He has been credited with developing battle rap talent as the founder, CEO, Toronto and host of King of the Dot. He is also a battle rap emcee.
Organik has assisted in organizing numerous King of the Dot events, including World Domination 2 in August 2011, which featured Kid Twist vs 360, Dirtbag Dan vs MadChild, Bender vs Illmaculate, Pat Stay vs MarvWon, The Saurus vs Eurgh, Loe Pescivs Ness Lee, Arcane vs PH, Charron vs Cruger, SMP vs Dizaster, PoRich vs Oshea, Rone vs Nils, Chedda Cheese vs Henry Bowers, Dose vs 24/7, and Diaz vs Protege.
On November 5, 2011, he organized Flatline, which featured a battle between rappers Dizaster and DNA. Organik co-hosted this event with Canadian hip hop artist Drake, who put up $3000 of his own money to be awarded to the winner of the battle. Organik promotes battle rap as a sport, encouraging emcees to allow themselves to be made fun of. He was influenced by Wu-Tang Clan and Big L.
Organik lives in Toronto, and is employed as a steel worker.
Ad blocker interference detected!
Wikia is a free-to-use site that makes money from advertising. We have a modified experience for viewers using ad blockers

Wikia is not accessible if you've made further modifications. Remove the custom ad blocker rule(s) and the page will load as expected.