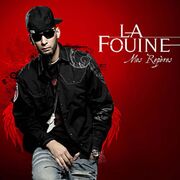 Mes repères
is the third album from La Fouine released on 23 February 2009.
The first single was It hurts: Remix with Soprano and Sefyu. It will be followed all the same and the firm then it will Hamdoulah. it was certified gold.
Title List
Edit
Du Ferme
Immortelles
Tous Les Mêmes
Rap Français
Ca Fait Mal
On Fait L'Taf
Interlude En Studio
De L'Or
Repartir A Zéro
Interlude Salam
Afrika
Moi Hamdoulah Ça Va
Rap Inconscient
Chips
Mes Repères
Je Sais Où Ça Ramène
La Mémoire Dans La Peau
Feu Rouge
Ça Fait Mal 'Remix'
Ad blocker interference detected!
Wikia is a free-to-use site that makes money from advertising. We have a modified experience for viewers using ad blockers

Wikia is not accessible if you've made further modifications. Remove the custom ad blocker rule(s) and the page will load as expected.