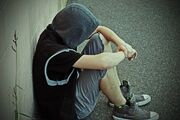 MTP is an American rapper from Williamstown, New Jersey.  He is currently signed to Renegades Music Group.
Beginnings (2011-2012)
Edit
MTP used to work with local rapper Obie 3, until they had a fallout due to unknown reasons.  Then MTP became a solo artist.
Darkest Moments, Living Dreams & Into The Darkness (2013)
Edit
MTP put out his first effort "Darkest Moments" in 2013.  It featured many songs from MTP, a couple with Survival Instinct, and even two with Obie 3!  Many of the songs on this mixtape were recorded far before the release of the mixtape.
MTP dropped his mixtape "Living Dreams" in 2013.  It features what is still considered to be one of his best songs, "Dreams". Then, MTP released his mixtape "Into The Darkness".  It was a halloween specific mixtape featuring horrorcore lyrics.
Hiatus & Now Or Never (2014)
Edit
For almost the first half of 2014 MTP was silent and was seemingly done with rap.  Then he returned and announced his new mixtape "Now Or Never".
Now Or Never released and quickly became his most successful mixtape. It featured appearances from Christine Scolari, Survival Instinct & Jay Farr.
Signing with Renegades Music Group & Future (2014)
Edit
In 2014 after the release of Now Or Never, MTP signed with Renegades Music Group. It is not known what MTP is working on now.
Discography
Edit
Mixtapes
2014: Now Or Never
2013: Into The Darkness
2013: Darkest Moments
2013: Living Dreams
Ad blocker interference detected!
Wikia is a free-to-use site that makes money from advertising. We have a modified experience for viewers using ad blockers

Wikia is not accessible if you've made further modifications. Remove the custom ad blocker rule(s) and the page will load as expected.