Lyrical Opposition
Edit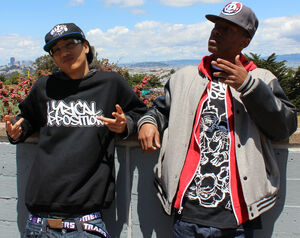 Lyrical Opposition, An Underground Hip-Hop Group, Consisting Of Alfluent, Cross And KritaCal, Former Solo Artists That Formed A Group Within The Group, Forever-A-Movement. The Black, Latino, Filipino Trio Are Called Lyrical Opposition Because Of Lyrical Styles That Are Completely Opposite Of Each Other And Oppose Certain Political Views, All Three Make Up And Combine To Create Effective Music. Christian "Cross" Bustos, Is A Filipino-American Hip-Hop Artist From Bay Area, CA, Trained By Fellow Label Mate, Terrell "SON" Batson. His Style Consists Of Punchlines And Metaphors Almost Every Line. He Is Fairly New To The Hip-Hop Scene, But Has Developed Into One Of Premier MC's On The Forever A Movement Entertainment Label. Mito Cardenas Aka KritaCal, Is A Bay Area Native, But Currently Resides In Los Angeles, CA. His Alternative Flow Speaks For Itself And The Only Way To Learn About Him Is To Listen To His Dramatic Verses. Alex "Alfluent" Osborne Is The Newest Member To Complete The Group, Add Diversity To The Group. Lyrical Opposition Is A Very Unique Group And A Forced To Be Reckoned With In The Hip-Hop Industry. Alfluent, Cross and KritaCal, Together They Make The Hip-Hop Group, Lyrical Opposition.
Alfluent & Dae-Dae Amadeus
Edit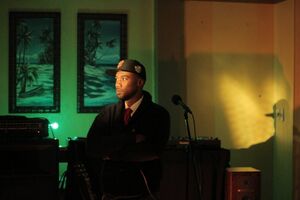 Lyrical Opposition added two new members in 2011. Alex "Alfluent" Osborne is a spoken word artist from the bay area and has traveled all over the nation. Osborne attended Thurgood Marshall High School in California where he met other Lyrical Opposition artist, Christian "Cross" Bustos. They've been friends for a while, but just recently got together to work on music careers. Osborne is currently partnered with
ZoN26
, a highly successful entertainment network company in California. Osborne can be found at several venues around the Bay Area hosted by the ZoN26 company.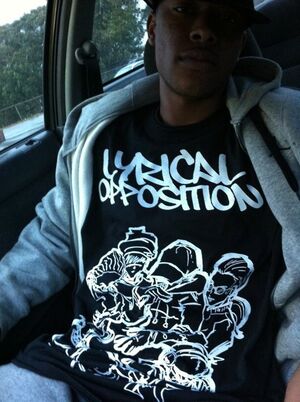 Dae-Dae Amadeus is an Oakland native, that is fairly new to the music scene, he is also the newest member of Lyrical Opposition. Amadeus adds swagger and more diversity to the group. His sense of style and lyrical ability in very unique and adds another dimension to complete the tandem. Amadeus can be seen performing with the rest of the group, as well as the Mistah FAB music video, "Sneakerhead".
Discography
Edit
Mixtapes
The Rising of the Son, Vol. 1 (2007)
Lyrical Opposition EP (2011)

Albums
Lyrical Opposition LP (2011)
Obliteration
Common Sense
My Victory
Feet on the Ground
Cloud 9
References
Edit
Ad blocker interference detected!
Wikia is a free-to-use site that makes money from advertising. We have a modified experience for viewers using ad blockers

Wikia is not accessible if you've made further modifications. Remove the custom ad blocker rule(s) and the page will load as expected.