Lil B
Talk

0
838pages on
this wiki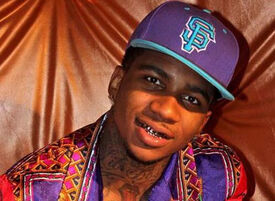 Brandon McCartney (born August 17, 1989), also known as Lil B "The BasedGod", is a rapper from Berkeley, California. Formerly a member of the group, The Pack, his career has now spanned innumerable mix-tapes and several studio albums.
Rapping Style
Edit
Many reviewers find it difficult to identify a unifying style for McCartney, due to his high level of musical output. Lil B is well known for having a style that is considered "stream of consciousness", or half-completed freestyle. The "based" style that he subscribes to makes for simple music without a high amount of effort or refinement, in high volumes. Many reviewers view lyrics from much of his mixtapes to be half-completed, less focused on lyrical perfection than a holistic approach of accompanying voice with sample.[1] A significant portion of Lil B's work is intended to be insightful or enlightened, while a roughly equal amount is the DJ Scream / Hoodrich style of heavy club music with a high amount of ad-libs and gangster bravado.
Career with The Pack
Edit
Lil B originally rose to popularity with the hyphy group The Pack. This is where the concept of "Based" music was originally created, and where Lil B attained his moniker of "BasedGod". The group gained notoriety in the late '00s with songs such as "Vans" and "I'm Shinin'", as well as their connection to popular Bay Area rapper Too $hort.
Social Media Engagement
Edit
Lil B is known for communicating with his fans through Twitter, Facebook, and YouTube. His song "Beat the Cancer" off of the Silent President mixtape was written in response to a YouTube commenter's request. This is exemplary of his commitment to his fan base and the level of interaction he maintains with them.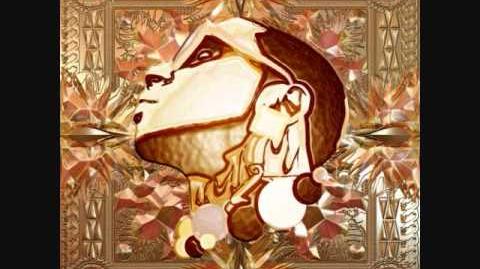 Lil B has two separate Facebook accounts, one as a Lil B fan page, and one as Brandon McCartney. Much of the content provided by one is duplicated in the other. He also uses Twitter, where much of his feed is retweets of fans paying tribute to him, with at least one interesting or insightful tweet from himself a day. Photos are shared through a Tumblr account allegedly run by his fashion stylist, Dior Paint. 
McCartney also leverages the power of the Internet as a marketing platform by writing songs about celebrities, such as Ellen Degeneres, Paris Hilton, Justin Beiber, Charlie Sheen, and Bill Bellamy. The usual template for such songs usually involves proclaiming that he is these celebrities, and using references to what makes them popular to back up his claims. These do not necessarily have to be factual to the topical celebrity. For example, the following lyrics from the song "Bill Bellamy":
| | | |
| --- | --- | --- |
| " | I got one felony. I got two felonies. I got three felonies. I got four felonies. I got five felonies. I got six felonies. I got seven felonies. Bitch, I'm Bill Bellamy | " |
There is no evidence that Bellamy has any criminal record. However, no charges have been filed against McCartney for defamation. In fact, an interview with Bellamy suggests that he's actually very happy with the nod. [2]
Lil B is also famous for bringing popularity to the "cooking dance" through YouTube. The cooking dance involves pantomiming actions that would be done during the preparation of food as you are dancing. McCartney has provided an instructional video on YouTube, and notified his fans that submitted videos that he has seen would be featured in his social media accounts. He claims the ability to deem particular dancers "master chefs". This has resulted in a groundswell of YouTube users filming themselves performing the dance in the hopes of being featured by Lil B and given the title of Master Chef.
List of Lil B Social Media Accounts
Edit
Controversy
Edit
Lil B's controversy is partially attributed to his ostentatious demeanor, and partially due to his social media engagement.
YouTube Punch-Out
Edit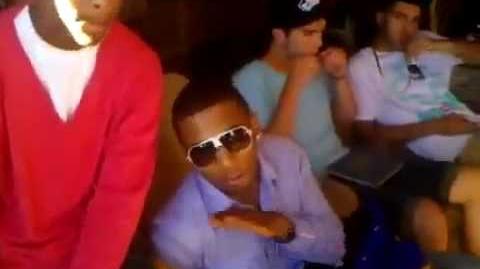 Lil B was punched in the face during a taped interview with fellow Bay Area rapper Lil Nico. Nico was engaging the rapper to pay respect to the Berkeley hip hop scene and send a positive message to rappers from his home town. When prompted about Berkeley, McCartney, who is more focused on telling viewers to stay positive in the interview, simply replies, "You already know. You already know what it is with Berkeley. You already know." The dialogue then moves on to asking Lil B to call up his collaborate Soulja Boy to tell them about other Berkeley rappers. However, Lil B had recently lost his phone. The standing Lil Nico, assuming Lil B is just refusing to cooperate, punches Lil B, who is seated, several times before McCartney stands to his feet, only to be punched in the face hard enough to be knocked back into his seat. A later interview with McCartney confirms that it was not staged by him for publicity, but it may have been planned in advance by the interviewers. [3]
Sexuality
Edit
Sexual Preference
Edit
McCartney has raised many questions regarding his sexuality by wearing tight clothes, pendant earrings, lipstick, women's gardening hats, and eyeliner. He is rumored to be publicly disclosing his sexuality at an upcoming speaking engagement at NYU. [4] This is not the first time his style as a performer has raised questions regarding his sexual preference. In the Summer of 2011, Lil B released the album "I'm Gay (I'm Happy)", which featured themes of self-destruction and inner-city frustration, with an ultimately uplifting message for the urban poor. Initial rumors stated that this was McCartney publicizing his preferences through the album title. He ultimately confessed to using the controversy to "break down barriers" and cause the hip hop community to rethink how it regards and values homophobia.[5] A recent Facebook update[6] from Lil B suggests otherwise:
| | | |
| --- | --- | --- |
| " | ITS TRU SOME PEOPLE ARE BORN GAY AND I WAS BORN LIKEING WOMEN THAT DONT LOOK LIKE ME DIFFRENT SKIN PIGMENTATIONS YA HERD ME - Lil B | " |
Regardless of Lil B's actual preferences, his message of acceptance and self-love is compelling. An interview with CNN[7] provides the following quote:
| | | |
| --- | --- | --- |
| " | I hope that I can turn some of my fans that might be homophobic or supporters that might be homophobic and say, "You know what, we're all one people. This is love." It's just respect, and I did that to bring people together and bring more love and to spark the minds of people and not let words and judgments and stereotypes stop you from loving. | " |
Promiscuity
Edit
Lil B heavily features the sharing of sexual partners in his music. "You can fuck my bitch, Basedgod," is a line featured in many songs. "BasedGod fucked my bitch" is a popular internet meme.[8] This seems to be part of his own personal fusion of hyphy hip hop style and Berkeley hippie values. While very open about his promiscuity in his music, he does espouse a belief in responsibility and safety. McCartney released the song "I've Got AIDS" on his BasedGod Velli mixtape as a way of drawing awareness to HIV and the measures that can be taken to prevent it.[9]
List of Collaborators
Edit
Waka Flocka Flame
Chief Keef
Bow Wow
Andy Milonakis
Tony Yayo
Clams Casino
Danny Brown
Roach Gigz
Danny!
9th Wonder
Jean Grae
Phonte
Star Slinger
Sole & The Skyrider Band
Diplo
Kid Cudi
List of Mix-Tapes and Studio Albums
Edit
1Bitch
6 Kiss
Angels Exodus
BasedGod
BasedGod Velli
Bitch Mob Respect Da Bitch Vol. 1
Black Flame
Blue Eyes
Blue Flame
Crime Fetish
Everything Based
God's Father
Goldhouse
Green Flame
I Forgive You
I'm Thraxx
Illusions of Grandeur
I'm Gay
Mf Based "Based Freestyle"
Mm... Christmas (Rare Golden Collection)
Paint Rare "Red" Album Collection
Rain in England
Red Flame
Red Flame Devil Music Edition 
Red Flame Evil Edition 
Roses Exodus "The Rare Yellow Mixtape"
The Silent President
Taskforce
White Flame
Water is D.M.G.
and about 200 others
Pink Flame
Pretty Young Thug 
Frozen Based
Obama BasedGod
Halloween h20
Based Jam
Illusion Of Grandeur 2
References
Edit