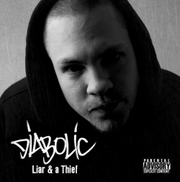 Liar & A Thief is Diabolic's first album. It was released under Viper Records in 2010 with 18 tracks, various songs featuring rappers Immortal Technique, Canibus, and Vinnie Paz.
Track listing
Edit
01. My Turn
02. Masterplan (feat. Akir)
03. Truth Pt. 1
04. Perspective (feat. Dj Snips)
05. Morning Light (feat. Dj Mentat)
06. Ya'll Don't Know (feat. Block McCloud)
07. Asshole & A Creep (feat. Grimlock)
08. 99 Pounds
09. S.A.R.S.
10. You Don't Know Freestyle
11. Club Hater Feat Smooth The Hustler
12. Role Model Freestyle
13. Drugs is Drugs (feat. Immortal Technique & Remynd)
14. No No No Freestyle
15. You Won't
16. You Don't Own Me
17. Gangsters
18. Dissin' The Industry
External links
Edit
[1] Diabolic at Billboard
Ad blocker interference detected!
Wikia is a free-to-use site that makes money from advertising. We have a modified experience for viewers using ad blockers

Wikia is not accessible if you've made further modifications. Remove the custom ad blocker rule(s) and the page will load as expected.