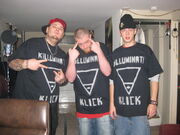 http://boondocksparanoia.com
In 07, Two hip hop artists collided with an equal desire... To make music and and have fun with it. Hoozia: a freestyle artist from Indiana. Rypt: a music inspired producer/rapper from Ft. Dodge teamed up to make music together. Over the years they have perfected their skills over 2 mixtapes and 2 full albums. In 09, a new artist named Bomber got in the mix and the three formed: KILLUMINATI KLICK. From its start in 09, Killuminati has completed one mixtape titled: "Below the Radar" Along with solo mixtapes, Hoozia:Crazyness, Bomber: Khaos, and Rypt: Kozmosis. Killuminati is also in the process of creating a new album, promoting thier mixtapes, and booking shows. With so much different music in the world today, It may seem hard to be creative and not conform to "what's popular". Instead of rapping about cars, clothes, jewelry etc. Killuminati talks about life experience, passion for the music, and challenging ourselves lyrically flippin the pyramids upside down. No matter what they do, at the end of the day, we always have fun with it. Keep an eye out on these cats, they're about to do big things.
In 2010, Killuminati Klick joined with Paranoia Productions. In joining with the label, they joined with Producer Joe "Dirt" Schaumburg, and rapper Nu Depths. Since then, the group has done countless shows, and have developed a sizeable following in the Midwest Underground Hip Hop Community. Bomber dropped his Mixtape: Khaoz and the group is working on their full length album "Evolutionary Jump" set to be released in 2011.
Ad blocker interference detected!
Wikia is a free-to-use site that makes money from advertising. We have a modified experience for viewers using ad blockers

Wikia is not accessible if you've made further modifications. Remove the custom ad blocker rule(s) and the page will load as expected.