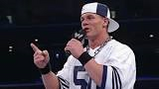 John Cena, also known as Dr. Thuganomics , is an American professional wrestler and rapper. He is currently sighed to WWE. Though Cena is mostly known for wrestling not rapping, he has done a lot of music, even with some famous artists. Which include Wiz Khalifa.
Before 2004
Edit
Even before Cena released a single album, he always rapped to his opponent's before they bagan their match. Insulting them is rapping ways.
2004-2005
Edit
In 2004, Cena sang his second intro song by himself. The song is called You Cant See Me, which is also Cena's most famous catchphrase. Cena then did more rapping albums until 2005, which he stopped rapping until 2014.
Cena returned to rapping in 2014, in order for the album for the 2014 video game WWE 2K15. He worked alongside famous rapper Wiz Khalifa. They did two songs together. The songs are called All Day and Breaks. Out of the two, All Day was the most popular.
Even after 2005, Cena still (sometimes) insulted his opponent's in rapping ways.
John Cena and R-Truth are the only current WWE wrestlers who are also rappers.
Ad blocker interference detected!
Wikia is a free-to-use site that makes money from advertising. We have a modified experience for viewers using ad blockers

Wikia is not accessible if you've made further modifications. Remove the custom ad blocker rule(s) and the page will load as expected.