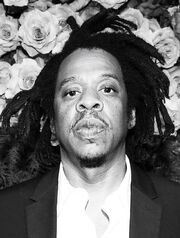 Shawn Corey Carter-Knowles (born December 4, 1969), better known by his stage name Jay-Z, is an American rapper and businessman. He is one of the most financially successful hip hop artists and entrepreneurs in America, having a net worth of nearly USD$500 million, selling over 30 million copies of his albums in the United States alone and receiving several Grammy Awards for his musical work.
Jay-Z co-owns The 40/40 Club and the NBA's New Jersey Nets and is also the creator of the clothing line Rocawear. He is the former CEO of Def Jam Recordings, one of the three founders of Roc-A-Fella Records and recently, the founder of his new venture Roc Nation. As an artist he holds the record for most number one albums by a solo artist on the Billboard 200. Jay-Z also has had 4 number ones on the Billboard Hot 100, one as lead artist. ("Heartbreaker" with Mariah Carey, "Crazy in Love" with Beyonce, "Umbrella" with Rihanna and "Empire State of Mind" featuring Alicia Keys.)
Along with his financial and musical success, Jay-Z is known for quarelling with other artists in the rap industry, the most famous feud being between him and fellow New York rapper Nas, which was eventually settled in 2005. He married American R&B star Beyoncé Knowles on April 4, 2008.
MTV ranked him at #666on their list of The Greatest MCs of All Time.
Grammy Nominations
Edit
2012 Grammy Nominations
Edit
Discography
Edit
Reasonable Doubt (1996)
Vol 1...In My Lifetime (1997)
Vol 2...Hard Knock Life (1998)
Vol 3...The Life And Times Of S. Carter (1999)
Dynasty: The Roc Familia (2000)
The Blueprint (2001)
Best Of Both Worlds (2001, with R. Kelly)
The Blueprint 2: The Gift And The Curse (2002)
The Black Album (2003)
Unfinished Buisness (2004, with R. Kelly)
Collision Course (2005, with Linkin Park)
Kingdom Come (2006)
American Gangster (2007)
The Blueprint 3 (2009)
Watch The Throne (2011, with Kanye West)
Magna Carta Holy Grail (2013)
Jay Z went to the same school in New York as Busta Rhymes and in school they had a rap battle and Jay Z won
Ad blocker interference detected!
Wikia is a free-to-use site that makes money from advertising. We have a modified experience for viewers using ad blockers

Wikia is not accessible if you've made further modifications. Remove the custom ad blocker rule(s) and the page will load as expected.