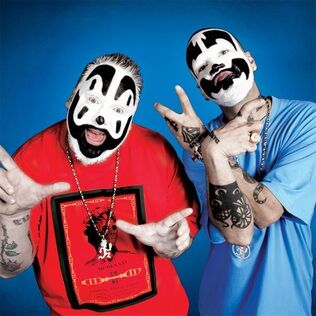 Insane Clown Posse (ICP)
is an American hip hop duo from Detroit, Michigan. The group is composed of Joseph Bruce and Joseph Utsler, who perform under the respective personas of the "wicked clowns"
Violent J
and
Shaggy 2 Dope
. Insane Clown Posse performs a style of hardcore hip hop known as horrorcore and is known for its elaborate live performances. The duo has earned two platinum and five gold albums. According to Nielsen SoundScan, the entire catalog of the group has sold 6.5 million units in the United States and Canada as of April 2007.
Ad blocker interference detected!
Wikia is a free-to-use site that makes money from advertising. We have a modified experience for viewers using ad blockers

Wikia is not accessible if you've made further modifications. Remove the custom ad blocker rule(s) and the page will load as expected.