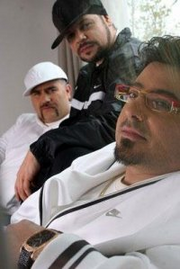 Imiskoumbria (Greek: Ημισκούμπρια), also known as Imiz is a comedy hip hop group from Athens, Greece. The group's roster has been the same since its inception in 1996 until 2010, constisting of rapper Dimitris Mentzelos (Greek: Δημήτρης Μεντζέλος), Mithridatis (born Mithridatis Hatzihatzoglou/Greek: Μιθριδάτης Χατζηχατζόγλου) and DJ Pritanis (born Kostas Kostakos/Greek: Κώστας Κωστάκος). They are widely credited for the establishment of hip hop as a force to reckon within the Greek music show business. In American and international releases, Imiskoumbria raps under Def Jam Records.
Name etymology
Edit
Ημισκούμπρια has been translated as "semi-mackerels" in English.
Σκουμπρί is the Greek word for the fish mackerel and is sometimes used in slang for elusive persons.
The first element ημι- is analogous to the formal prefix "semi-" (in contrast to the colloquial μισό "half").
Hence the name refers to "half-elusive guys". The combination of these two elements is used mainly for comedic effect rather than being meaningful, despite deep meanign with a mix of comedy witihn the group's elements.
Discography
Edit
Studio albums
Edit
30 Χρόνια Επιτυχιές (30 Khronia Epitikhies/30 Years of Hits) - 1996, FM Records
Ο Δίσκος που Διαφημίζετε (O Dhiskos pu Dhiafimizete/The Record That you are advertising) - 1997, FM Records
Στενές Επαφές με Τρεις Τύπους (Stenes Epafes me Tris Tipus/Close Encounters with Three Guys) - 1998, FM Records
2030 - 1999, Def Jam/Universal
Τη Λόλα Απ'τη Φωτιά Ποιός Θα τη Βγάλει; (Ti Lola ap'ti Fotia Pios Tha ti Vghali?/Who's Going to Get Lola Out of the Fire?) - 2001, Def Jam/Universal
Γυναικολογίες (Yinekoloyies/Gynecologisms) - 2004, Minos/EMI
Η Απλή Μέθοδος των Τριών (E Apli Methodhos ton Trion/The Simple Method of Three) - 2006, Minos/EMI
Αιρετικά Ερωτικός (Airetika Erotikos) - 2009, Legend
Ο Ράπερ της Χρονιάς (O Raper tis xronias/The Raper of the year) - 2011, Legend
"Η Τσόντα (E Tsonta/The Porn Flick)" - 1996, FM Records
"Η Μαγική Τσατσάρα (E Mayike Tsatsara/The Magic Comb)" - 1998, FM Records
"La Klikaria - Κοίτα Με (Kita Me/Look at me)" - 2001, Def Jam/Universal
"Πάμε όλοι μαζί σε μια παραλία (Let's All Go To A Beach)" - 2002, Def Jam/Universal
"Ήπια 15 (I Drank 15)" - 2005, Minos/EMI
Collaborations
Edit
Ad blocker interference detected!
Wikia is a free-to-use site that makes money from advertising. We have a modified experience for viewers using ad blockers

Wikia is not accessible if you've made further modifications. Remove the custom ad blocker rule(s) and the page will load as expected.