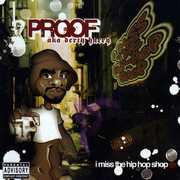 I Miss The Hip Hop Shop is Proof's second album and was released in 2004. The album contained a "diss track" towards rapper Ja Rule for his fued towards Shady Records. Proof participated in the fued, siding with Shady Records by making the track "Ja In A Bra". The album was produced and released by Iron Fist Records.
Track listing
Edit
1. "Intro" (Skit)
2. "E and 1 Equel None"
3. "Yzark"
4. "Derty Harry"
5. "People Hi for Change"
6. "Niel Armstrong"
7. "Broken" feat. Journalist and Mu
8. "Shake Dat Donkey"
9. "Runnin' Yo! Mouth" feat. T-Flame and Fatt Father
10. "Dolo Speaks 2" (Skit)
11. "Know Ya! Name" feat. 1st Born
12. "Play With Myself"
13. "You Know How 2" feat. Famous
14. "It Ain't About Tha"
15. "Cross tha' Line"
16. "Bring It 2 Me" feat. Killa Khann
17. "Ja in a Bra" (Ja Rule diss)
18. "Nowhere Fast" feat. Dogmatic
19. "Love Letters"
Production
Edit
I Miss The Hip Hop Shop has several producers. The main producers of the album were DJ Premier, R&B singer Davina, J Dilla, Kon Artis, and Amp Fiddler. However, other artists and producers produced tracks such as DJ DDT-Da Busta, Sicknotes, Reef, Kareem Riggins, Essman, Cyzer Soset, Greg C. Brown, House Shoes, and Stacey. Proof released I Miss The Hip Hop Shop under Iron Fist Records.
Sources come from Discogs.com and Wikipedia.
Ad blocker interference detected!
Wikia is a free-to-use site that makes money from advertising. We have a modified experience for viewers using ad blockers

Wikia is not accessible if you've made further modifications. Remove the custom ad blocker rule(s) and the page will load as expected.