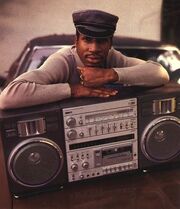 Grandmaster Flash, born Joseph Saddler on January 1, 1958, is a Rock and Roll Hall of Fame inductee and pioneer in hip hop music structure and production methods. Born in Bridgetown, Barbados, he is a good example of hip hop's early fusion of New York Inner City call-response and Afro-Caribbean stylings. He is known primarily for his work with The Furious Five and Melle Mel.
Tools of the Trade
Edit
Flash is best known for popularizing or innovating on several DJ techniques used primarily in hip hop production throughout the early '00s. With his primary tools being analogue devices (two turntables, a mixer, and vinyl records), he implemented several methods that transformed existing recordings into new compositions. The primary method of creating these compositions is called backspinning, or beat. This involves alternating playback from one turntable to the other, allowing one record to play while rewinding another record to a previous position to provide a fluid, continuous beat from a smaller sample. While juggling beats, ad-libs or flourishes were introduced with clock punching, which involves introducing playback from a separate sample with a short melody. Record scratching introduced additional syncopation and rhythmic lead, as well as special attention to the DJ himself, apart from the MC. This set of tools has been extremely successful throughout the '80s, '90s, and beyond in creating unique, innovative music based on existing themes and forms.
Popular Works
Edit
Grandmaster Flash is known for the following hip hop classics:
Superrappin' (With The Furious Five)
We Rap More Mellow (With The Younger Generation)
The Message (With Melle Mel)
Ad blocker interference detected!
Wikia is a free-to-use site that makes money from advertising. We have a modified experience for viewers using ad blockers

Wikia is not accessible if you've made further modifications. Remove the custom ad blocker rule(s) and the page will load as expected.