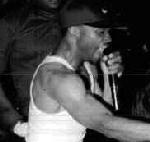 Gangsta p or Lil Gangsta p was born in Oakland,California He is one of the pioneering rappers of today.In 1993 Gangsta p made his debut on one of his best friends album entitled "The Dark roads" In which the two recorded the famous song "Straight Mobbin" which is performed entirely in izzle slang.In 1995 Gangsta p released his only album to date entitled "Meet The Lil Gangsta" which was put out on Erin records.In the same year he was heavily featured on Seagram's second album Reality Check.Both of their 95' albums featured G-funk sound, a style which the two are credited for having brought Oakland after becoming popular by other artists. Thoughout 95'-96 Gangsta P recieved much radio play with the single "It's goin down Oakland" it charted at no.5. The single was included on the comtiplation America Is Dying Slowly along with fellow Bay Area rappers Spice 1,Celly Cel,187 Fac, and Ant Banks.On July 31st, 1996 P was with Seagram in an Oakland area known as the Twomps in the early hours of the morning when an unknown gunman appeared and opened fire upon the two.Seagram shielded P from the brunt of the blast and was slain Gangsta P was seriously injured but would survive the incident with multiple gunshot wounds.The murder of Seagram Miller remains unsolved.After the loss of his best friend,Gangsta P has apparently retired from rap, limiting his performances to guest apperances on fellow Bay Area friends albums.His current whereabouts and status are unknown. Gangsta P And Seagram would remembered on the Oakland streets as the g-funk pioneers of rap in the bay being two of the only at the time to popularize G-funk and influence and diversify the styles of many rappers to come. He was killed in Vallejo by police officers in May of 2012.
Ad blocker interference detected!
Wikia is a free-to-use site that makes money from advertising. We have a modified experience for viewers using ad blockers

Wikia is not accessible if you've made further modifications. Remove the custom ad blocker rule(s) and the page will load as expected.