Eminem
Talk

0
798pages on
this wiki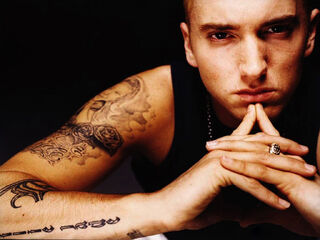 Name: Eminem (Born:Marshall Bruce Mathers III), or by his alter ego Slim Shady, is an American rapper, producer and actor. Eminem quickly gained popularity in 1999 with his major-label debut album The Slim Shady LP, which won a Grammy Award for Best Rap Album. The following album, The Marshall Mathers LP, became the fastest-selling hop hip album in history. It brought his group project D12 into mainstream recognition. The Marshall Mathers LP and his third album, The Eminem Show, also won Grammy Awards, and in 2002, he won the Academy Award for Best Original Song for a song in the film 8 Mile, in which he also played the lead. Eminem developed into one of the most popular rappers of all time, then went on hiatus after touring in 2005. He released his first album since 2004s Encore, Relapse, on May 19, 2009. His Recovery album, origanally named Relapse 2, was set to release November 2009, but was released June 21, 2010.
Eminem had a hard life growing up: his father left the family when he was growing up; his mother physically and verbally abused him; his family had to move every two months before finally settling down; he was bullied to ridiculous extents for being white in an all-black neighborhood (at one point, he was put into a coma and had to re-learn all his basic functions when he woke up); he was often kicked out of his own house for nights; he failed ninth grade three times (despite his extensive vocabulary, which came from him reading the dictionary cover-to-cover multiple times as an adolescent); and the houses he lived in were often robbed.AND is the best rapper alive today.
Discography Edit
The bullets by the titles indicate that they're official albums.


Infinite (1996)
The Slim Shady EP (1997)
The Marshall Mathers LP (2000)


8 Mile: The soudtrack (2002)
Curtain Call: The Hits (2005)
Eminem Presents The Re-Up (2006)



Relapse: Refill (2009)


*Untitled Eminem Album (TBA)
Grammy Nominations
Edit
2012 Grammy Nominations
Edit