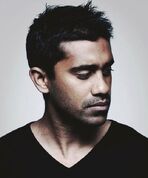 DeLon (Dilan Jayasingha) is a Sri Lankan American rapper and record producer.
Delon, as a surname, may also refer to:
Delon, as a forename, may also refer to:
Delon Armitage, a rugby union footballer who plays at wing/full back for London Irish and England
Delon Dotson, an American technologist and businessman who has played key roles in several businesses, including Netscape Communications and MP3.com
Delon Thamrin, a Chinese Indonesian singer and runner-up in the hit reality series Indonesian Idol
Ad blocker interference detected!
Wikia is a free-to-use site that makes money from advertising. We have a modified experience for viewers using ad blockers

Wikia is not accessible if you've made further modifications. Remove the custom ad blocker rule(s) and the page will load as expected.