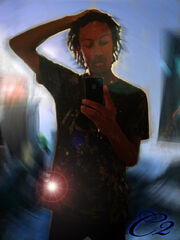 Cameron Marquez Calloway (born March 2, 1994), better known by the stage name C2.
Biography
Edit
Cameron Marquez Calloway (born March 2, 1994), better known by the stage name "C2", is an American rapper, songwriter, producer, singer, and graphic artist. At the young age of five, C2 was already jumping on stage in the spotlight. It started off as dance which evolved into singing. This then evolved into musical instruments. At the age of 13, C2 had already been in 3 plays with major roles, choir with many solos, and can play trumpet, piano, and guitar. In 2009, C2 discovered a new genre of music. Hip-hop was very big in his school and he knew more about funk and techno-funk from his father, Reggie Calloway, formally of Midnight Star. He studied both these genres to discover what made each one so great. In only a three year period, Cameron had already discovered how his sound should be for his audience. He received the name C2 because both his first and last inital are "C".
He later had "The SpaceMan" added to his alias to represent intuitive thoughts and explanation that only seemed fit to describe him as a man from space. His friends and family always called him a dreamer always thinking of some way to get anything done. This allowed him to create the alter ego "SpaceMan BEATS" for production use. Seeing the potential in both his rapping and beat production, C2 solidified his name as C2TheSpaceMan.
C2TheSpaceMan is due to release his first mixtape on April 20th, 2012 called Cloudy Sessions Vol.1.
Discography
Edit
April 2012: Cloudy Sessions Vol. 1
Ad blocker interference detected!
Wikia is a free-to-use site that makes money from advertising. We have a modified experience for viewers using ad blockers

Wikia is not accessible if you've made further modifications. Remove the custom ad blocker rule(s) and the page will load as expected.