Bugz
Talk

0
945pages on
this wiki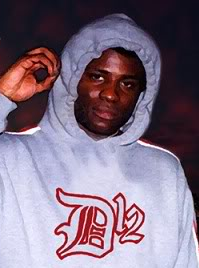 Bugz (born Karnail Pitts, January 5, 1978, died May 21, 1999) was an American underground rapper from Detroit, Michigan and a member of the group D12 from 1996 to 1999. He was also a solo hip hop artist. Bugz was also known by his alter-ego "Robert Beck." He released his first EP in 1999 called These Streets EP. Bugz also appeared on DJ Carl's 1999 album The Art of Invisibilty in which he rapped on the "Detroit Detroit" interlude. Most of Bugz's solo work was in 1999, but several recordings from 1999 of him performing with other raps such as 5150 and M.O.B. were released on various album. Bugz's first and only solo album titled Mr. Obnoxious was supposed to be released in February, 2000, after his death, with appearences from 5150, and his D12 cohorts Eminem, Proof, Swift, and Bizarre, though it was not released. In 2004, DJ Butter hosted a posthumous mixtape called DJ Butter Presents: Bugz, One Man Mob.
Personal life
Edit
Born Karnail Pitts on January 5, 1978 in Detroit, Michigan, Bugz grew up without a father, his father having abandonned him and the rest of the family while Bugz was young. Bugz rapped about this with Bizarre in the song.
Death of Bugz (1999)
Edit
Before a show in Detroit, Bugz attended a picnic where an argument with a man over a water pistol escalated into a fight. The man went to his SUV and retrieved a firearm, which he fired in Bugz' direction. Bugz was shot four times and was hit by the assailant's vehicle as the suspect fled the scene. The attack, on May 21, 1999, was captured on video and aired later that day on local news.
Members of the group were shaken by the tragedy, darkening the mood within the collective. One of Bugz's final acts had been a request that Swift join the group. Following the death of Bugz, Eminem volunteered as replacement to fulfill the group's forthcoming obligations. This led to Eminem eventually rejoining the group.
At the time of his death, Bugz was working on his first solo album, Mr. Obnoxious, which was ultimately released posthumously in February 2000. D12 recorded their debut album,Devil's Night, in his memory. Eminem's third album, The Marshall Mathers LP, is also dedicated to him. The track "Good Die Young", released on D12's second album, D12 World, is about Bugz. The album also includes a song titled "Bugz '97", which is a 1997 recording originally from the song "Desperados".
Discography
Edit
These Streets EP (1999)
Mr. Obnoxious (LP, 2000)
Posthumous
Edit
DJ Butter Presents: Bugz, One Man Mob (2004)
Collaborations
Edit
The Underground EP with D12 (1996)
Quiet As Kept Entertainment Presents…Detroit's Best Kept Secret (1999)
External links
Edit
Visit BugzNation.com to see all sources. Also feel free to google it too!