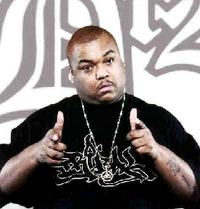 Rufus Arthur Johnson, better known as by his stage name Bizarre, is an American rapper from Detroit, Michigan. Bizarre is a member of the rap group D12. Bizarre is known for his overweight stature which is a common joke in his performance.
Early life and career
Edit
Rufus Johnson was born in Detroit, Michigan, U.S. on July 5, 1976. He was raised in a dysfunctional family, his parens having been divorced and his mother having abused him as a child. Bizarre was influenced to rap by LL Cool J and Dr. Dre and Ice Cube of N.W.A. While growing up Bizarre would rap at St. Andrew's rap club. He said prior to the release of his third studio album Friday Night at St. Andrew's: "St. Andrews is the venue all the Hip Hop heads went to on Fridays for music. There were other clubs around it, but it stood out like a sore thumb. The people who went there used to look so different. People used to laugh at you for going there." Bizarre began working with D12 and they released their debut extended play The Underground EP while he began working on his solo EP Attack of the Wierdos in 1997. Bizarre released his first album, Hannicap Cricus in 2005.
Bizarre appeared on a YouTube video on April 6, 2011 stating that Fuzz Scoota, an old D12 member, has rejoined the group and will appear on the group's mixtape Return of the Dozen Vol. 2 released on April 12, 2011. Eminem also appeared on the mixtape as well.
Bizarre is working on his fourth studio album, Hannicap Circus Remade which contains samples and similar tracks to his first album Hannicap Circus.
Discography
Edit
Solo work
Edit
Attack of the Wierdos EP (1997)
Hannicap Circus (2005)
Blue Cheese & Coney Island (2007)
Friday Night At St. Andrew's (2010)
Hannicap Circus Remade (2011)
Hate Music (2007)
Liquor, Weed & Food Stamps (2008)
A Pre-Coney Island Mixtape (2009)
This Guy's A Wierdo (2011)
Collaborations
Edit
The Underground EP with D12 (1996)
Devil's Night with D12 (2001)
Limited Edition Mixtape: Please Bootleg This Album mixtape with D12 (2004)
D12 World with D12 (2004)
Return of the Dozen mixtape with D12 (2008)
Return of the Dozen Vol. 2 mixtape with D12 (2011)
Natural Born Killers upcoming release with D12 (2011)
Bizarre has also collaborated underground with 5 Elementz, Soul Intent, and Da Ruckus.
Further reading
Edit
Bizarre interview by Pete Lewis, 'Blues & Soul' September 2010
External links
Edit
Ad blocker interference detected!
Wikia is a free-to-use site that makes money from advertising. We have a modified experience for viewers using ad blockers

Wikia is not accessible if you've made further modifications. Remove the custom ad blocker rule(s) and the page will load as expected.