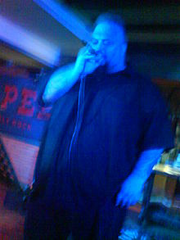 B.D. Foxmoor (born Michalis Mytakidis; Μιχάλης Μυτακίδης, on August 21, 1967) is a Greek rapper and hip hop producer. In 1992 he founded the Greek rap group calledActive Member and released the first Greek hip hop album, Diamartyria (En: Protest), in 1993. In 1995 when Active Member signed to a major label, Warner, and released To megalo kolpo, B.D. Foxmoor started referring to his music as "Low Bap", a subgenre of hip hop that formed in Greece. He has released many solo albums as long as LPs with Active Member and has also produced many releases of other Low Bap artists. He works with 8ctagon and Warner Records.
Discography
Edit
Solo albums
Edit
I'm Still An Active Member (1994)
Sti chasi ke sti fexi (1999)
Danikes Prosefches (1999)
To mystiko oktagono (2001)
Afovia (2003)
5/2/03 (2003)
Sfina (2004)
Wasted in Hiphopoly (2005)
Pyromantic (2006)
Otan i mikronoi hiphoragun (2007)
Darkest light epitome (2008)
Vadarkia (2009)
With Active Member
Edit
Diamartyria (Protest) (Freestyle Productions, LP 1993)
Stin Ora Ton Skion (In the Hour of the Shadows) (Freestyle Productions, LP, 1994)
To Megalo Kolpo (The Big Game) (Warner, CD/LP, 1995)
Apo Ton Topo Tis Fygis (From Run Away Land) (Warner, CD/2LP, 1996
Mythoi Tou Valtou (Myths from the Moor) (Warner, CD/2LP, 1998)
Meres Paraxenes, Thavmasies Meres (Weird Days, Beautiful Days) (Warner, CD, 2000)
Live/Remix (Warner, 2CD, 2000)
Ston Kairo tou Allokotou Fovou (In Times of Weird Fear) (Warner, CD/2LP, 2001)
Perasma sto akroneiro (Passage to the Edge of a Dream) (Warner, CD, 2002)
Fiera (Warner, CD, 2004)
Ap' to Megalo Kolpo sti Fiera (From 'Big Game' to 'Fiera') (Warner, CD, 2005)
Blah-Blasphemy (8ctagon, CD, 2005)
Klassika ki agapimena (cd, 2007)
Skieratsa (including: Blah-Blasphemy 2, Bathiskiota (Deep Shadowed), Apnoia) (8ctagon, 3CD, 2006)
Ap'tis ftiaxis mas ta lathia (8ctagon, 2009)
External links
Edit
Ad blocker interference detected!
Wikia is a free-to-use site that makes money from advertising. We have a modified experience for viewers using ad blockers

Wikia is not accessible if you've made further modifications. Remove the custom ad blocker rule(s) and the page will load as expected.