Background
Edit
Swifty McVay mixtape released in 2012 on various websites such as datpiff.com. Contains many freestyles over well known beats, features from well known Detroit artists (some shown on D12's "14 Emcees"), and overall well done mixtape. The featured guests include Meth Mouth, Seven Da General, Reddbone, TY Farris, Famo, Beez, Stress, Savage, King Fu, Lady Luck, Miz Korona, Shakia Snow, MaeDay, & Big T along with a now more frequent collaborator/concert performer of Swift Sean Strange, and D12 members Kuniva, Fuzz Scoota (who recently re-joined no more than a year or two ago) and posthumous vocal samples of Proof on the track "Detroit is Like" which is the key phrase in the song itself.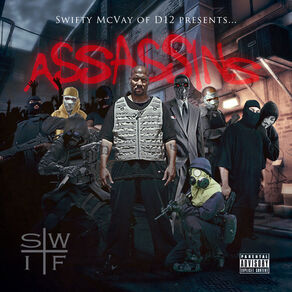 Tracklist
Edit
1. Always Strapped - Freestyle
2. Destroy Stress
(feat. Meth Mouth)
3. Get at 'Em
(feat. Seven Da General)
4. Hydrenalyn Juice
5. The Motto - Freestyle
6. I'm Snatchin' That
(feat. Reddbone)
7. Human Hydroshock
(feat. TY Farris, Famo, & Beez)
8. Footprints - Freestyle
9. Crazy
(feat. Sean Strange & Stress)
10. Get Dis Money -  Freestyle
11. AnyWay
(feat. Savage & King Fu)
12. Murder Sounds Like
(feat. Lady Luck & Fuzz Scoota)
13. Kush - Freestyle
14. Nuthin Y'all Can Do
(feat. Kuniva)
15. Don't Give a Damn
16. BMF - Freestyle
17. Kill Bill
(feat. Shakia Snow, Miz Korona, & MaeDay)
18. The $ - Freestyle
19. Roughless
(feat. Big T)
20. It's All Good
21. Triggerlosophy
22. Detroit is Like
note: samples vocals from deceased D12 bandmate Proof are used on hook and in background
Download here: http://www.datpiff.com/Swifty-Mcvay-Assassins-mixtape.401439.html
Ad blocker interference detected!
Wikia is a free-to-use site that makes money from advertising. We have a modified experience for viewers using ad blockers

Wikia is not accessible if you've made further modifications. Remove the custom ad blocker rule(s) and the page will load as expected.