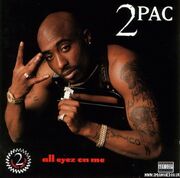 All Eyez on Me is the fourth studio album by American Rapper
2Pac
. It was released on February 13, 1996, and sold 566,000 copies in the first week of release. This was the last album released during 2Pac's lifetime, as he died exactly 7 months after the release of this album on September 13.
The album is widely regarded as one of the most influential albums in the music industry as being the first double album in Rap and Hiphop history. It was also recognized as one of the crowning achievements of West Coast Hip-Hop and 1990s Rap music. It has been called "despite some undeniable filler easily the best production 2Pac's ever had on record". According to the RIAA, the album is one of the highest-selling rap albums of all time, with over 5 million copies of the album sold in the United States alone by April 1996. It was certified 9x platinum in June 1998 by the RIAA
Ad blocker interference detected!
Wikia is a free-to-use site that makes money from advertising. We have a modified experience for viewers using ad blockers

Wikia is not accessible if you've made further modifications. Remove the custom ad blocker rule(s) and the page will load as expected.