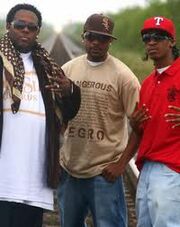 5th Flow
 is an American hip hop group formed in 2006. The trio consists of Jelani "
JClay
" Clay, Brandon "
Rahlo
" Townsend, and Troy "
Supreme
" Washington.
5th Flow was originally part of the underground hip hop scene in Dallas, Fort Worth, and Houston, Texas. The band's early release of Quarter To A Half through its independent record label Pink Slip Records earned the group a grassroots fan base.... In 2010, the debut of their single IM ON IT! became a breakout success, which eventually sold approximately 12K copies and received an overwhelming amount of YouTube views.
5th Flow is widely credited for creating the "IM ON IT!" t-shirt campaign and becoming the first independent label to ink a deal with major retailer Shiekh Shoes with over 100 retail locations in the United States.
Since Retail placement, the t-shirts named after the 2010 single "I ON IT" has grown into a mixtape series and retail website http://IMONITclothing.com/, which yielded over 5K t-shirt sales within a 3-month span. 5th Flow and Pink Slip Records have radically changed the indie label business model using retail sales as a money tree to generate venture capital other indie labels so desperately seek.
2011 marks the release of the I'M ON IT Radio Mixtape Vol. 1, which is lyrically driven by 5th Flow and sponsored by Shiekh Shoes and other retailers. An unprecedented 50K copies will be made available FREE to the public. This in turn is expected to continue to drive t-shirt sales.
With the infrastructure and business model presently in place, 5th Flow and Pink Slip Records are on the track for continued growth and success.
Ad blocker interference detected!
Wikia is a free-to-use site that makes money from advertising. We have a modified experience for viewers using ad blockers

Wikia is not accessible if you've made further modifications. Remove the custom ad blocker rule(s) and the page will load as expected.