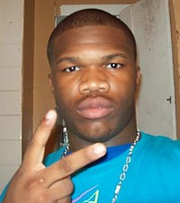 50 Tyson (born 1993, age 22), born as Antonio Henderson-Davis, is an autistic American underground rapper from Minneapolis, Minnesota. 50 Tyson was made famous for his various video uploads onto YouTube, which he joined on January 17, 2009. 50 Tyson works for the underground label Hudson Records. 50 Tyson was often criticized for his inability to freestyle rap when his first freestyle video, "Minnesota/That is where I'm from" appeared on youtube. His video was featured on Tosh.0 in which it was criticized and teased harshly. I ain't gunna lie... I'm 50 Tyson Man!!!!!!

50 Tyson released a mixtape entitled 50 Tyson Presents: The Rhythm of Autism, Volume 1 on April 15, 2011 featuring the internet singles "I Ain't Gonna fuck up" which is where the '50' in his name comes form. The 'Tyson' in his name comes from his ability to "fight any obstacle as if to be Mike Tyson."
Discography
Edit
50 Tyson Presents: The Rhythm of Autism, Volume 1 (2011)
References
Edit
Ad blocker interference detected!
Wikia is a free-to-use site that makes money from advertising. We have a modified experience for viewers using ad blockers

Wikia is not accessible if you've made further modifications. Remove the custom ad blocker rule(s) and the page will load as expected.